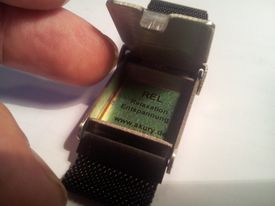 The AkuRy safe bracelet for the information chips
Time and again, my customers asked me how they can carry the akury information chips on their bodies. So far I had not found a safe solution for it. The women carried them partly in the capsule under her brassiere, the men in the shirt or trouser pocket. Often I was asked if the chips lose their effectiveness during the washing process. Many children have lost the chips.  

I have solved this problem with the akury-safe-bracelet now.

Technical specifications:
The akury-safe fits every 22mm watch strap (also comes with a color-matched bracelet)
Material: stainless steel, solid silver
External dimensions: 25 x 25 mm
Inside dimension: 22 x 22 mm depth 5 mm
Closure: special closure
Weight: 15 grams 

Bracelet:
22 mm silicone bracelets with quick release in light gray, dark gray, dark blue and orange

Safe Bracelet for Information-Chips
The akury-safe fits every 22mm watch strap
(also comes with a color-matched bracelet)
Material: stainless steel, solid silver
External dimensions: 25 x 25 mm
Inside dimension: 22 x 22 mm depth 5 mm
Closure: special closure
Weight: 15 grams
available
1 - 3 days shipping time1